Official National
Hunter Ed

Course Online


Take this course to complete the online education for your Hunter Education Certificate.
Get hunter certified in 3 steps.
What to Expect From Hunter Ed
Live‐Action, High‐Definition Videos
Our course videos feature a combination of professional educators (who double as professional actors), entertaining storylines, and up‐to‐date scenarios that give you one of the most effective ways to learn safe hunting practices.
Comprehensive Instruction in Hunting Education
This official training program is developed to meet the standards for Hunting education. Hunter Ed is an online course provider that also develops print materials that cover Hunting safety best practices and regulations.
Learn Your Way on Any Device
Hunter Ed offers online courses that are fully mobile-friendly from start to finish. This safety course is designed to work on your smartphone, tablet, laptop, or desktop computer.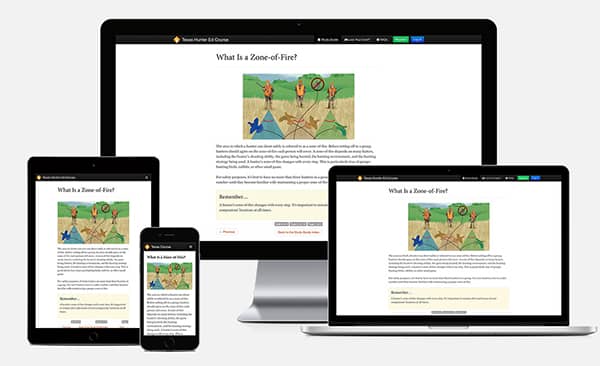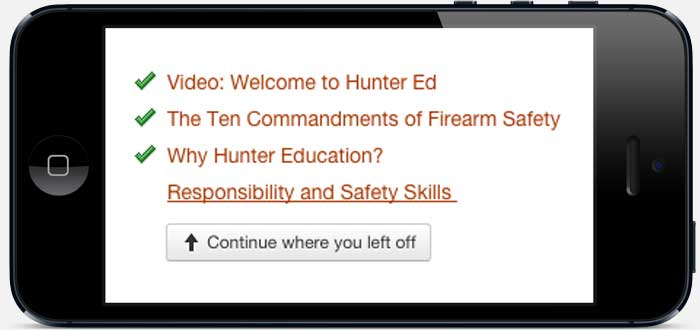 Saved Progress
You may complete the course at your own pace. The course can be completed in one sitting or a little at a time over several days. Log in and out at any time, and we'll keep track of your progress. Most students finish the course in a few hours.
National Approved
IHEA–Approved Course
true true
Made in the U.S.A.
This safety course is proudly made to serve students, agencies, and organizations worldwide.
How do I get my National Hunter Education Certificate?
1. Study and pass the online course.
Study the course to prepare for the required online exam.
2. Finish any other requirements.
After successfully completing the online course, finish any other requirements from the state.
3. Get your National Hunter Education Certificate.
You'll receive your permanent Hunter Education Certificate after successfully completing all state education requirements.
Get Started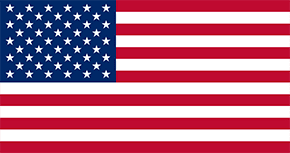 Hunt More Strategically
The HuntWise app combines pinpoint mapping features with accurate weather forecasting to provide hunters with the ideal tool to determine the best times and places to hunt all major North American game species. Complete your Hunter's Ed certification and you can get 50% off everything HuntWise PRO has to offer.
You can take advantage of this offer during checkout.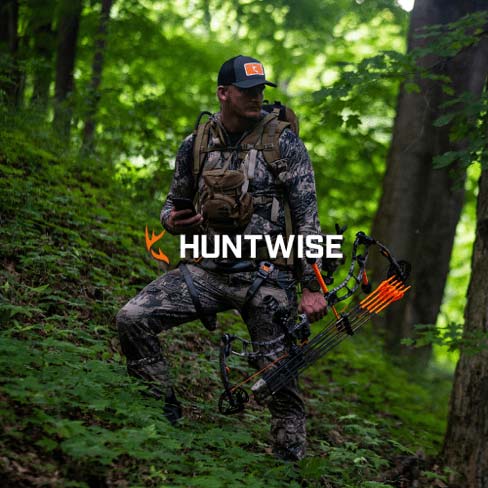 Get protected by a leader in ATV insurance
Your homeowners policy won't cover your ATV if you ride off property. That's why Progressive offers ATV insurance, so you can roam worry-free. Getting this coverage is a smart decision, one that can help you cover costs if you get in an accident. And keep you exploring for years to come. Insure Your Passion®.
Get a Quote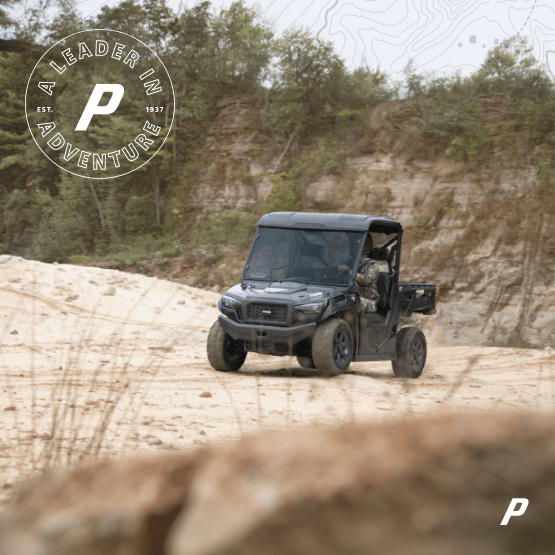 Frequently Asked Questions
Price and Payment
How much does this course cost?
Each state sets its own price. Go to your state's course to see the course fee.
Taking the Course
Who should take this course?
You can take this course if you plan on hunting in states that require certification.
Course Approval and Acceptance
Is the National Hunter Ed Course approved by the IHEA–Approved Course?
The National Hunter Ed Course is approved and accepted by the IHEA–Approved Course.
Is my National Hunter Education Certificate accepted elsewhere?
All U.S. states, provinces, and other countries that have mandatory hunter education requirements will accept the National Hunter Education Certificate. Likewise, National will accept Hunter Education certifications that are issued by other jurisdictions that meet official IHEA-USA requirements. (This is known as "reciprocity.")
About Your Certification
What is the proof of online National Hunter Ed Course completion?
Once you pass the Final Exam and pay for the Hunter Education Certificate, you will be able to immediately print out the . This is your proof of online course completion. You can print the right then, and/or request that a PDF be emailed to you.
What is the permanent National Hunter Education Certificate?
The Hunter Education Certificate is proof that you have successfully completed all the education requirements. The Hunter Education Certificate will be mailed to you after you complete all certification requirements.
Replacement of Lost or Damaged Documents
How do I replace my Hunter Education Certificate if I've lost it or it has been damaged?
We're people, not robots.
Your Hunter Ed course comes with a dedicated customer service team made up of real people, not robots. We're here to provide assistance to you through all channels—phone, email, and chat.
We're available to help you:
Mon-Fri 8am to 8pm CST
Sat-Sun 8am to 5pm CST
1-800-830-2268 (toll free)