The New York
Important Information
Locating and Signing Up for the
You should locate and sign up for the required before beginning the homework portion of the New York State Department of Environmental Conservation Hunting education course.
If you have not already signed up for your , locate and sign up for the in your area.
Important! Bring your Hunter Education Certificate to the as proof of having completed the online homework.
Warning! Passing the online homework course does not guarantee you a spot at the .
What To Expect at the
The course length is a minimum of 7 hours. Course topics covered include:
firearm handling and safety techniques
knowledge of firearms and ammunition
principles of wildlife management
tree stand safety
hunter ethics
Most of the classroom topics will pertain to New York-specific regulations and issues that are not covered in this online course. Be sure to have proper clothing for the outdoor sessions.
After attending and passing the portion of the Hunting education requirement, you will receive your Hunter Education Certificate.
Get Certified Online!
Take this New York–approved course to complete your online hunter safety education.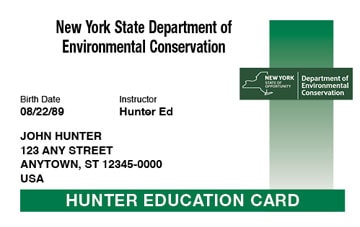 Lifetime Card