The Arizona Field Day
Important Field Day Information
Warning! Passing the online course does not guarantee you a spot at the Field Day.
Locating and Signing Up for the Field Day
After passing the online portion of the Arizona Game and Fish Department Hunting education course, you will need to locate and sign up for the required Field Day. The schedule is updated every Tuesday. Offerings are based on volunteer instructor schedules and availability.
Locate and sign up for the Field Day in your area.
Most classes will offer a waiting list for that specific class or Field Day. Once you register online for the waiting list, you will be notified by email if a seat becomes available.
What to Expect at the Field Day
The Field Day is 4–6 hours, depending on the number of students attending.
The Field Day will include:
A brief classroom session
Live-fire shooting requirement
Firearms demonstrations
Walking course, including shoot/don't shoot scenarios
50-question final written exam
The Field Day will reinforce some of the content from the online course; however, there is a significant number of test questions on the final exam that have been taken from the online course content and will not be reviewed during the Field Day exercises. It is the student's responsibility to carefully review the online material. We strongly suggest that youth students (ages 9–13) go back and review the study guide or email [email protected] to request a hard copy of the Today's Hunter in Arizona student manual. Questions on the final exam are compiled from every chapter of the online course. The exam is designed to meet the national 4th-grade reading level and comply with the testing requirements of the International Hunter Education Association-USA standards.
Important! Bring your Field Day Qualification Exam Certificate to the Field Day as proof of having completed the online course. Once you have passed all the Field Day exercises and met the minimum 80% score required to pass the final written exam, you will receive your Arizona Hunter Education Certificate.
Hunter Education is not required for anyone 14 years of age or older in order to hunt in Arizona. No one under the age of 14 may hunt big game without completing a Hunter Education course. No one under age 10 may hunt big game in Arizona. While you must be 10 years of age to hunt big game, you may complete Hunter Education at the age of 9. However, the Hunter Education completion card and certificate does not become valid until the child's 10th birthday.
Get Certified Online!
Take this Arizona–approved course to complete your online hunter safety education. Hunter-ed.com is a delegated provider for the Arizona Game and Fish Department.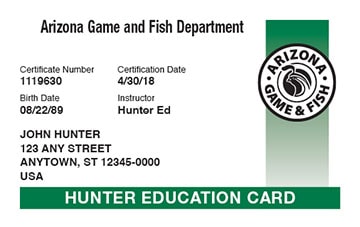 Lifetime Card
Get Started


We're people, not robots.
Your Hunter Ed course comes with a dedicated customer service team made up of real people, not robots. We're here to provide assistance to you through all channels—phone, email, and chat.
We're available to help you:
Mon-Fri 8am to 8pm CST
Sat-Sun 8am to 5pm CST
1-800-830-2268 (toll free)