The California
Important Information
Locating and Signing Up for the
After passing the online portion of the California Department of Fish and Wildlife Hunting education course, you will need to locate and sign up for the required . All students are required to obtain a FREE Pre-registration Hunter Education Document prior to registering for the . Click here for details.
Locate and sign up for the in your area.
Important! Bring your Hunter Education Certificate to the as proof of having completed the online course.
Warning! Passing the online course does not guarantee you a spot at the .
What to Expect at the
This is a 4-hour review of the online course with a certified hunter education instructor. It includes a student demonstration of safe firearm handling and a test.
After attending and passing this portion of the hunting education requirement, you will receive your Hunter Education Certificate.
Get Certified Online!
Take this California–approved course to complete your online hunter safety education.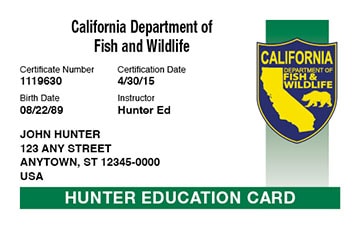 Lifetime Card